Three Decades and Three Generations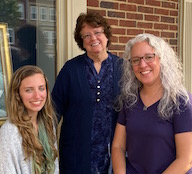 In June Creative Brush celebrated its 30 year Anniversary. Having begun 30 years ago with Mary Reilly, 15 years later Christine Reilly Raymond joined the studio/gallery. Now Christine's daughter, Caitlyn Raymond, is the third generation at Creative Brush, being one of the seven artists who has dedicated easel space.

In celebrating 30 years, Mary, Christine, and Caitlyn have a special exhibit "Three Generations' Show". They were also interviewed by Internationally recognized artist, speaker, author and mentor Matt Tommey on his podcast "The Thriving Christian Artist".
Listen to the podcast interview.