Christine Raymond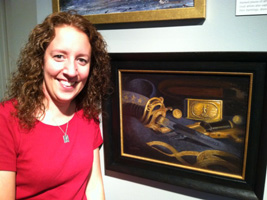 Christine Raymond has been creating art from a young age. As the daughter of Mary Reilly, she was practically "born with a paintbrush in her hand". Over the years, Christine became a proficient artist through a series of college art courses, special workshop opportunities and by being mentored by Mary.

In 2006 Christine took her studio out of her home and became a full time artist at Creative Brush Studio where she paints, displays her art and manages the gallery.

Christine's work is primarily representational, however she also has a flair for the contemporary. With a passion to create paintings that speak to the heart, many of her pieces have a meaningful story which she loves to share with people when they visit Creative Brush.

Among her many works, Christine is quickly becoming known for her Civil War Commemoration series. The series first oil, I fight for Virginia, was included in the Manassas Museum's special exhibit, Collecting the Civil War.